125 Mitchell Blvd., Suite F, San Rafael, CA 94903   ph.415.472.6004   CCL # 627224
Northgate Garage Doors offers Chamberlain-Liftmaster garage door openers and accessories based upon their proven commitment to quality, performance, reliability and outstanding warranty.
All models offer the ultimate in safety and security features. Models are available with a variety of horsepower levels, drive systems, accessories, and are internet capable allowing you to open and close the door from a smart device.
Rolling Code Technology – For greater security, Lift Master openers include Security+ ® rolling code technology. Each time the remote is activated, Security+ automatically rolls the code over to any one of 100-billion new codes, never to be repeated.
Protector System ® – For safe operations, every model is equipped with the Protector System ® , which projects an invisible light beam across the inside of the garage door opening. If anything interrupts the beam while the door is going down, the door automatically reverses before making contact.
Here are the most frequently requested and installed operators. Other operators are available upon request.
Liftmaster Chain Drive Operator
Model 8587W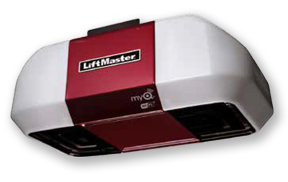 A ¾ HP motor combined with a rugged I-beam rail and chassis support bracket to smoothly lift even the heaviest carriage house or custom wood doors. Quietest chain drive on the market.
view product details
Liftmaster Belt Drive Operator Model 8355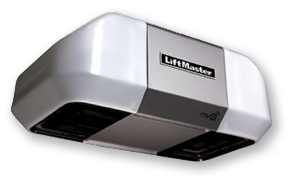 Liftmaster belt drive systems offer the ultimate in quiet operation. Each delivers smooth-running power and reliable performance year after year. They are the perfect choice for homes with living space above or next to the garage.
view product details
Liftmaster Jackshaft Operator Model 8500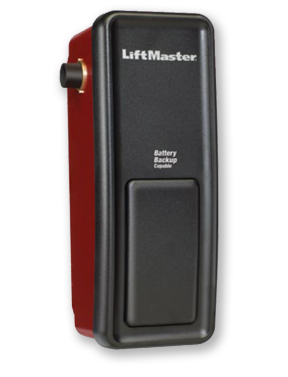 This Liftmaster jackshaft opener mounts on the wall beside the garage door, freeing up ceiling space, and is available with a Battery Back up which powers up even when power is out. *Note: Not appropriate for all applications.
view product details
Liftmaster DC Motor Belt Drive
w/ Battery Back UP System 8550W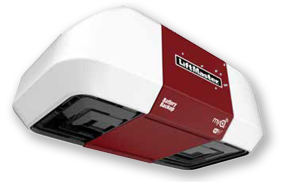 Strong and silent DC motor provides smooth start and stop operation for less wear and tear. Enhanced belt drive is the quietest system; perfect for homes with a bedroom located directly above the garage. Battery Backup system enables you to operate your garage door opener even when the power is out.
view product details